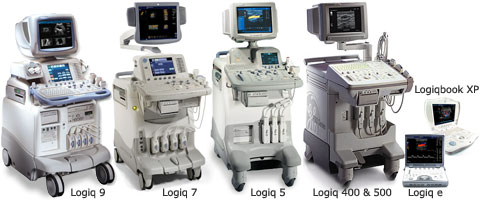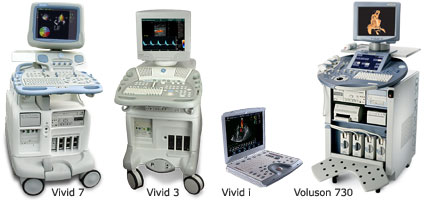 OB/GYN, Radiology, Cardiology, Emergency Medicine, Anesthesiology
GE Medical, a great choice for all applications and budgets!
---
GE Voluson 4D/3D Imaging
The Voluson 730 is packed full on innovations to help you see more, work more efficiently and diagnose with more confidence.
Innovations in image quality: Speckle Reduction Imaging (SRI) suppresses speckle artifact while maintaining true tissue architecture.
CrossXBeam (CRI) enhances tissue and border differentiation. (HD-Flow™) achieves a more sensitive vascular study and reduces overwriting.
Volume Contrast Imaging (VCI) allows for better image quality in either a single plane or all three planesof a volume acquisition.
Innovations in image automation:
Sonography-based Volume Computer Aided Diagnosis (SonoVCAD) helps standardize image orientation of the fetal heart by
providing views automatically obtained from a single volume acquisition
Innovations in image analysis:
Spatio-Temporal Image Correlation (STIC) captures a full fetal heart cycle beating in real time, and the volume can be saved for
offline analysis. Tomographic Ultrasound Imaging (TUI) makes analysis and documentation of dynamic studies easier with a simultaneous
view of multiple parallel slices of a volume data set.
---
Contact Sales and Service at: Corporate Offices, Northern California, USA
1.209.824.0323
Email cw@ultraimaging.com
Thank you for viewing our site!