Diagnostic Ultrasound Equipment Sales & Repair Service
Offering the very latest, Top Quality, New & Pre-Owned ultrasound machines
Cutting edge technology available now on our New and Pre-owned systems
---
UltraImaging Systems offers the following New Products!
One Year factory Warranty, installation, complete applications training/support and emergency repair services

SonoLine X300 X150 G20 G40 G50 Cypress

Nemio XG 10 20 30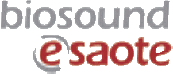 MyLab®Five MyLab®25Gold

180plus Titan MicroMaxx
---
Certified, reconditioned, pre-owned ultrasound machines
OB/GYN, Radiology, Cardiology, Vascular, Urology, Veterinary. Installation, applications training, variety of
transducers, VCRs, DVDs, printers, repair parts, preventive maintenance and technical support are all available.
Click the logo to see the best late model choices:
Factory fresh refurbished 4D/3D GE Voluson E8, 730 Expert & 730 Pro's available at great prices!
---
Contact Sales and Service at: Corporate Offices, Northern California, USA
1.209.402.1030
Email cw@ultraimaging.com
Thank you for viewing our site!